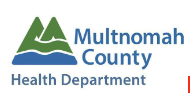 Website Multnomah County
THIS WORK MATTERS!
**When applying please be sure to follow ALL instructions under "Screening & Application"**
This position is an on-call position with the Coordinated Diversion Aid and Assist team. Individuals in the position work with persons who have been deemed unable to aid and assist in the defense of legal charges against them because of qualifying mental disorder. The duties of persons in this position include assessment and evaluation, complex care planning, maintaining continuous knowledge of community treatment resources who may be able to provide services to individuals who lack capacity to stand trial. Staff will perform work that is mandated by Oregon Revised Statutes, Oregon Administrative Rule, and Court Order. Much of the work is mandated to be completed within particular time frames. Staff will collaborate and consult with a variety of stakeholders including inpatient and outpatient treatment providers, Courts, attorneys, corrections staff.  Work may occur in a variety of settings including Court rooms, hospitals, community, jail, and telework.
** Eighty (80) hours of availability minimum required per month.**
The eligible list created from this recruitment may be used to fill future regular, limited duration, temporary, on-call, full or part-time assignments within the department.
As the Aid & Assist Mental Health Consultant – On-Call other duties will include:
Assessment, Consultation, Care Coordination, and Referral Actions
Provide mandated functions and services including consultation, evaluation, needs assessment, care coordination, and care recommendations for adults who exhibit severe emotional disturbances, substance abuse, criminal behavior and are unable to aid and assist in defense of legal charges against them.
Coordinate for and interview clients on the aid and assist docket in person or via video as ordered by the Court.
Collect medical, mental health, and social information from treatment records and medical charts.
Maintain working knowledge of community-based behavioral health treatment resources, referral criteria, and availability.
Facilitate referrals to community agencies.
Recommend and refer to mental health services performed by subcontracted providers, and provide consultation in the development of appropriate services and intervention strategies to facilitate diversion from and discharge from Oregon State Hospital (OSH).
Communicate monthly with Oregon State Hospital staff who are assigned to the care team of each Multnomah County client.
Maintain communication, coordination, and continuity between providers, agencies, and the client.
Complete Court ordered tasks and present findings and recommendations to the Court.
Provide regular status updates to the Court.
Documentation and Meetings
Attend program, unit, division, department and County meetings as requested or required.
Attend provider meetings and systems level meetings as requested or required.
Participate in individual and group supervision, and performance planning of events, etc.
Maintain timely and accurate documentation of all provided services for forensic diversion clients.
Make and document required monthly contact with clients committed to OSH for competency restoration.
Make and document required monthly contact with Oregon State Hospital staff for each committed patient at the hospital.
Provide and receive status updates, participate in care coordination, and continually assess options for community based restoration services.
Attend client staffing meetings, Court hearings, treatment planning meetings, and staff meetings as directed or required.
TO QUALIFY:
We will consider any combination of relevant work experience, volunteering, education, and transferable skills as qualifying unless an item or section is labeled required. Please be clear and specific about how your background is relevant. For details about how we typically screen applications, review our overview of the selection process page.
Minimum Qualifications Required:
Education/Certification: Must meet the standards of Qualified Mental Health Professional – (QMHP – C) with the Mental Health & Addiction Certification Board of Oregon (MHACBO) – more information can be found at MHACBO website. Current QMHP – C, and/or licensed Board of Oregon (LPC, LCSW, PHD,etc).
Graduate degree in psychology or
Graduate degree in social work or counseling or
Graduate degree in a behavioral science field
Other:
This position requires a background investigation, which may include being fingerprinted.
Valid Driver's License. Requires use of personal vehicle or vehicle from fleet to travel to assigned sites.
Preferred Qualifications/ Transferable Skills*: You do not need to have the following preferred qualifications/ transferable skills to qualify. However, keep in mind we may consider some or all of the following when identifying the most qualified candidates.
Lead with race through actions and advocacy with internal programs, with community partners and across departments throughout the county.
Demonstrate the ability to flex style when faced with myriad dimensions of culture in order to be effective across cultural context.
Respect and appreciation for ethnic and cultural diversity.
Ability to collaborate and build relationships to achieve positive work outcomes.
Ability to maintain a safe and healthful workplace.
High degree of resilience, is outcome driven and can thrive in an environment of rapid change while effectively managing pressure in an effective and professional manner.
*Transferable skills: Your transferable skills are any skills you have gained through education, work experience (including the military) or life experience that are relevant for this position. Be sure to describe any transferable skills on your application and clearly explain how they apply to this position.
SCREENING & EVALUATION (REQUIRED):
The Application Packet: You must submit ALL requested items below. Failure to do so will be deemed as an incomplete application.
1. Attach a Resume demonstrating you meeting minimum qualifications; AND
2. Attach a Cover Letter addressing the following:
Describe if you have any experience providing mental health services to diverse communities and experience working within systems of behavioral health regulatory oversight ; AND
How you meet the qualifications for this position; AND
3. Attach a copy of your QMHP and/ or Board of Oregon Licensure (if applicable)
Note: The application, resume and cover letter should demonstrate your work experience/skills and how it is related to those shown in the 'Overview' and 'To Qualify' sections of the job announcement. Please be thorough, as these materials will be scored and determine your eligibility to advance in this recruitment process